CALLAWAY GREAT BIG BERTHA II 415CC+ TITANIUM DRIVER ONLY £69.99 (RRP £250)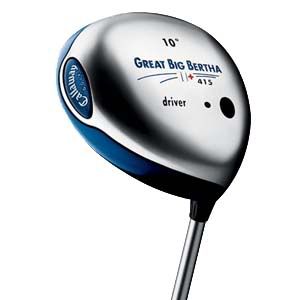 The new Great Big Bertha(R) II 415+ Titanium Driver is the largest driver Callaway Golf has ever brought to market, with a clubhead that measures 415cc.
The size increase over the original 380cc Great Big Bertha II Titanium Driver allows the Company's engineers to increase stability and overall performance for golfers of all skill levels, making the new Great Big Bertha II 415 Titanium Driver the most forgiving Great Big Bertha ever.
Callaway Golf engineers have used the extra 35cc of volume designed into each Great Big Bertha II 415 Titanium Driver to increase the driver's Moment of Inertia (MOI). A higher MOI means the clubhead is more stable at impact. The Great Big Bertha II 415+ Titanium Driver is designed to provide consistent ball speed, backspin and launch angle on shots struck across a large area of the club, which helps minimize any losses in distance or accuracy on off-centre hits.



The ultra-thin, strong titanium clubface features a special beta titanium alloy to provide the maximum Coefficient of Restitution, further increasing your potential for greater distance on shots struck on a wide area of the clubface.



All of the Great Big Bertha II Titanium Drivers feature patented Callaway Golf technology, including Short Straight Hollow Hosel (S2H2(R)) and Tru-Bore(R) Technology. These longstanding design principles play a large part in the performance of these new drivers, helping to optimize the clubhead shape and increase the MOI and forgiveness of the drivers.



Meanwhile, the new Great Big Bertha II 415 Titanium Drivers utilize the same proprietary series of high-performance graphite shafts that have generated positive feedback in the original Great Big Bertha II Titanium Drivers. The GBB(TM) System 60 shafts are lightweight, low resin-content graphite shafts with high strength and exceptional responsiveness.



The new Great Big Bertha II 415+ Titanium Driver is available in two lofts for right-handed golfers (9 and 10 degrees).



Please note this driver is so powerful it exceeds the COR set by the R and A and as such will be illegal for competition play after 1st January, 2008. It is of course a lot of fun up until then and fine to play in recreational golf beyond that time.
Well I don't know how they do it, but as well as this the Sports HQ has got some fantastic other bargains on right now, including full sets of clubs (and bag !) for just £69.99. Just click on:

Even if you don't need a full set they've got some great offers on clothing and also a full range of Poker chips for the after round activity !! So pop on over to The SportsHQ
and grab yourself a bargain.
And of course plenty more superb deals available at
payless4golf.com
for great brands at great prices.

And why not visit the
the Payless4 directory
for lots more great offers and shopping.
Quite simply don't pay more payless4.