It's Official - First Hole in One Recorded due to the "Magic" Payless4 golf Cabretta Leather Gloves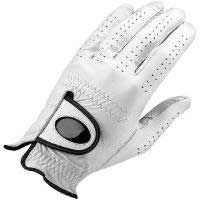 I have to share with you the e-mail I've just received from one of my customers - Peter Gilroy.
He had the good sense not to pay £12+ for the Footjoy and Titleists of the world when for less than a fiver you can have one of these "magic" gloves.
Just look at what he had to say:
"Did you know that your Cabretta golf gloves are magic
Let me tell you why - I am 55 years old, have played golf all my life and still play off 18 handicap - that is to say I am pretty useless at the game, - But last Thursday I stood on the first tee of my golf club and put on one of your Cabretta gloves.
I turned to my playing partner and told him that this was a magic glove which i had just purchased on the internet. He smiled and suggested that it needed to be magic to improve my game. The smile disappeared from his face, however, as my 8-iron shot to this par 3 opening hole soared toward the centre of the green, faded toward the pin, pitched 6-feet short and roled serenely into the cup. This was the first hole-in-one I have ever achieved (And probably the last). The ball and glove are now being framed for future posterity and i thank you for your part in what was a memorable day for me.
And that's why your golf gloves are magic! "
Peter Gilroy
So don't wait, pop over to
for this and other great offers of great brands at great prices