New Super Soft Claw Tees Arriving Early September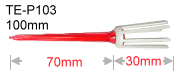 LESS RESISTANCE MEANS MORE DISTANCE !!
When using your driver the club head will reach speeds of 100mph + at the point of impact. At this speed even the slightest resistance to motion will effect the result of your drive. These special "payless4golf" brush tees are designed to reduce the friction to give you greater accuracy and precious extra yards.
Two sizes are available 100mm for the driver and 65mm for the 3 wood.
For these and lots of other great offers just click on over to
payless4golf
for

great brands at great prices.
---
And don't forget to get your FREE copy of "The eBay Buyer's Guide" as my way of thanking you for checking out my auctions. Learn 27 ways to avoid being ripped off and 13 ways to find hidden items on eBay. See my eBay me page for more information.
---